Dog Vaccinations for your Pet in Granada Hills, CA
Did you know that your pets can also benefit from the technology and science of pet vaccines? It's true! Just like humans can get help through a simple injection to help prevent deadly diseases, so too can your pet find the help he needs from a veterinarian to stay immunized, healthy, and protected against a wide range of illnesses.
At Mission Veterinary Clinic and Animal Emergency Hospital, we can help provide your cat or dog with vaccines and other pet care services! We want to help our furry friends in Granada Hills, CA, experience the full benefits of vaccines and get them the care they need to live long and healthy lives!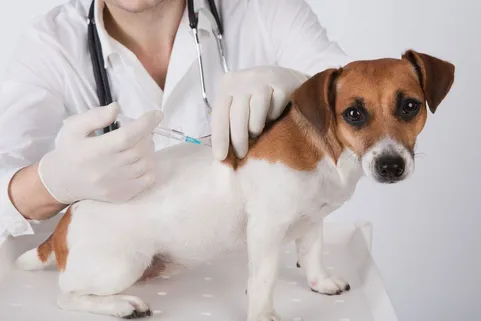 What Are Cat and Dog Vaccinations?
Dog vaccinations are exactly what they sound like: vaccines administered to dogs. They are similar to human vaccines, in that they contain inactive forms of a virus and are administered into your pet using a fine needle. They can then help protect your pets against certain diseases by allowing them to form antibodies against the virus present in the vaccine. The most common diseases vaccinated against include parvovirus, distemper in cats and dogs, rabies, and the herpes virus.
Do Vaccines Hurt My Pet?
Vaccines to not hurt your pet and are administered as part of a routine pet health exam. However, some pets might have an allergic reaction to the materials used to make the vaccine. Therefore, it's important to only have vaccines administered with the help of a veterinarian. Our vet will monitor your pets for signs and symptoms of an allergic reaction, and ensure they are healthy and happy right after the vaccine is administered!
Fortunately, these reactions are rare, but it's better to be on the safe side to ensure your pet's safety. In addition, these vaccines need to be administered according to hold old your pet is. Our vet will know which vaccines can be safely administered to your pet.
Find the Best Treatment from Our Veterinarian at Mission Veterinary Clinic and Animal Emergency Hospital
Keep your pet healthy with the help of vaccines! Call today to schedule an appointment and get started!